WELCOME
3 months ago
W

e
I

ntend to be
L

ifelong
L

earners
I

nspiring
A

chieving and
M

odeling
S

uccess
A Parent's Guide to Social Media
School Site Council - SSC
5 months ago
This page will contain copies of the agendas and minutes for the School Site Council as well as copies of our school plans so that all stakeholders (Parents, teachers, students, community) can be a part of our process. If you have any input you would like to offer on our school plans please contact the principal or join us at one of our meetings.
Next Scheduled Meeting:
Thursday April 20th at 3:00 in room 6
Agendas and Minutes
School Plans
2016 School Accountability Report Card
Single Plan for Student Achievement
PTA (Parent Teacher Association)
2 months ago
We will be adding more information from our PTA as it becomes available

We have just a few parents/teachers doing a LOT of work to raise money for our teachers and students. If you can help with fundraisers, or other activities please let us know in the office and we will pass your contact information on to the PTA.
If you know of a business that would be willing to help sponsor some of our PTA activities please let us know.

PTA President- Ana Serrano
PTA Vice President- Alba Baralaga
PTA Secretary- Judy Villanueva
PTA Treasurer- Ana Gonzalez
We will post the current budget but here is an idea of how PTA funds have been used:
Teacher support ( yearly reimbursements $50-100 per teacher)
Student Books (library and classroom)
Field Trips (extra support when requested)
Playground Equipment
Playground Tables and Umbrellas
Marquee Fund (Funds being set aside until we reach goal)
Water and Prizes for Jog-a-Thon
Red Ribbon Week Activities
Volunteer Appreciation
Teacher Appreciation Lunch
Read Across America
Battle of the Books
Movie Nights (snacks)
50th Anniversary
6 days ago
Williams Elementary will be celebrating its 50th anniversary on September 11, 2017.
We are planning various activities throughout the year to celebrate. We would like to invite alumni staff and students to join us on Sept 11, 2017 for a special ceremony. Please send contact information to us a sparsons@huensd.k12.ca.us or call the office at 805 488-3541.
Mr. Al Berg, first principal at Williams, comes to visit and share some memories.
Mr. Gomez, Mr. Berg, and Dr. Parsons


The hunt is on for our missing time capsule(s). Click on the paper to see the Ventura County Star Article.


We are seeing some social media activity. Please contact us if you have memories to share or you know about a missing time capsule.






Wildcat alumni from the Oxnard PD came to share memories and time capsule clues.
Sr. Police Officer Hannah Estrada and Sgt. Marc Amon visit with Ms. Burke and Dr. Parsons.
Sgt Amon tries to recall where a time capsule was buried back in the 80's.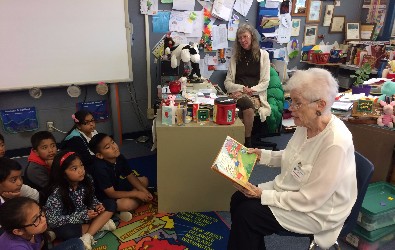 9 feet down and no luck!
The Ventura County Star came out to watch our plight and hung in there until the end. We went down to 9 feet and we never found anything but a railroad spike. We are sad! If you have better intel on the mysterious missing time capsule call us at 488-3541.
Click on the picture to the right to see the second article about our search.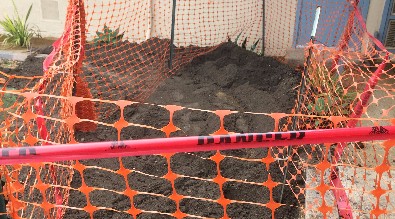 A Mother's Story
Shirley Goodwin shares some memories of the early days at Williams before Bard Rd. met up with Anchorage St.
Click on the picture of her kids to read her story.










An early shirt from the Godwins
Mrs. Goodwin donated one of the shirts her kids wore in about 1978